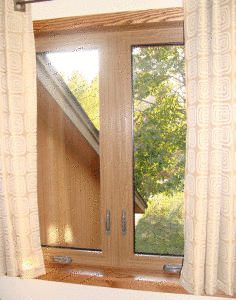 Casement windows are hinged and open and close with a crank, offering 100 percent airflow. WASCO's are the finest casement windows on the market.
WASCO's 1400 series casement windows are the finest outswing casement windows available in North America. These windows are hinged vertically and open and close with a crank, offering 100 percent airflow. They offer superior air infiltration and thermal performance to double hung and slider windows. Casements can stand alone, or are oftenon either side of a picture window. AWNING CASEMENT windows are hinged along the top to swing out and up. They allow almost 100 percent airflow and can be left open during rainstorms without allowing water to enter the home.
Features
Three seals: An outer dust seal, a secondary seal to prevent air infiltration around the operating hardware and a primary compression seal
The vinyl replacement windows and new construction windows feature heavy weight, thick-walled Rehau RAU-PVC extrusions with multiple chambers in the sash and frame. The chambers dramatically reduce heat transfer and improve structural rigidity and eliminate the need for foam filling with its risk of weld contamination or drainage interference. Moreover, the extrusions feature pockets for galvanized steel reinforcement when necessary.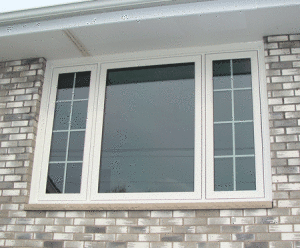 Picture window matches appearance of casement perfectly.
Cardinal LoE 180 Solar gain with Super Spacer® glass is standard for the best performance out of a dual pane in Wisconsin's climate. Optional Cardinal LoE3 provides solar control if needed.   Triple pane glass, with an overall thickness of 1 3/8", is available in solar gain and LoE3 variants.
American-made hinges, operators and locks.
Available in white and almond vinyl, with optional wood grain interior.
Custom exterior colors are available.
Glass Packages
WASCO Windows have a variety of options available for glass packages.  For specific information, click the links below: