WASCO Windows are made for Wisconsin...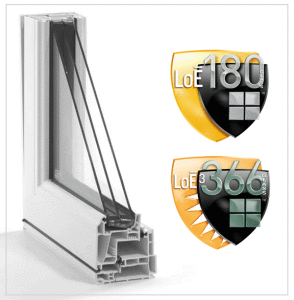 ...and other cold climate states and come standard with high performance dual and triple pane glazing for our Northern Climate. Research shows the energy bills are lowered in cold climates when glass lets in free solar heat in the winter. WASCO is proud to offer Cardinal LoE 180 glass which combines a low U-Factor with high visible light transmittance and high solar heat gain in the winter.
However, sometimes WASCO has a customer with a summer heat problem, and in these specific cases, Cardinal LoE3 366 is the right choice and is available at no charge.
All WASCO windows feature Cardinal Glass made right in Spring Green, Wisconsin with a minimum thickness of 3mm (double strength)!
WASCO's Spacer Systems: SuperSpacer® and with Cardinal's XL Edge®
WASCO produced insulated glass (IG) units feature SuperSpacer®, a no-metal spacer, for warmer glass edge temperatures and reduced sound transmission. This advanced warm edge spacer helps keep the traditionally cold edges of the glass warmer. This area is where condensation typically begins, and SuperSpacer® is one reason WASCO's windows have a high condensation resistance (CR). A secondary seal of butyl rubber keeps the argon in over the long haul.
WASCO's standard supplier of tempered and large format glass is Cardinal IG. These units are supplied with Cardinal's XL Edge® spacer system. The warm-edge characteristics of XL Edge IG reduce the frequency and amount of condensation during the most extreme temperature conditions. For a typical wood/vinyl window design, it would have to be 12°F colder outside before condensation forms on a unit with XL Edge in comparison with aluminum.
For specific information on glazing available, click a link below: