wasco doors overview
From door replacements and conventional new construction to high energy performance homes, WASCO can fit you with the right door, ensuring maximum security, energy efficiency and beauty for your home.
A product of WASCO's Milwaukee Fensterwerk, Balcony and Terrace Doors offer better thermal performance and far higher security than leaky sliding doors. Balcony doors are ideal...

The Tilt & Slide Patio Door combines compression seals, full-perimeter locking and tilt-in ventilation with the space-savings of a sliding patio door....

WASCO Fensterwerk entry doors have a conventional latch and full exterior lockset. They are available in single or French Door configurations, in inswing or outswing designs....
As a full-service replacement window company, WASCO offers a fine line of replacement entry doors built by the Albany Door Company in Illinois. They will enhance...

To provide our customers with a complete selection of quality products, WASCO sells and installs Gerkin "All Classic" storm doors, with quality features like: Lifetime hinges...

Glass patio doors are available with an exterior satin white or almond finish, with the option of white, almond, natural oak or dark wood grain interiors....
european doors from wasco fensterwerk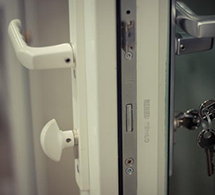 Doors from WASCO's Milwaukee Fensterwerk doors are available in two series:
The GENEO series, made from high tech, six-chamber REHAU RAU-FIPRO profiles, is the right choice for passive or high energy performance homes.
GENEO easily surpasses the requirements of the U.S. Department of Energy R-5 Window program.
Perfect for New Construction, Passive Solar and Low-energy Homes.
Innovative material with patented integrated reinforcement system.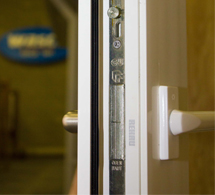 The
4500 Series
is a four-chamber REHAU RAU-PVC system. Still a strong performer, this system is the right choice for retrofit or conventional new construction.
3 mm (0.12 inch) thick RAU-PVC extrusions from REHAU.
60mm, four-chamber design in the sash and frame increase strength and reduce heat transfer.
Pockets for galvanized steel reinforcement when additional strength is necessary.