Q: What is WASCO's service area?
A: Our four Southeastern Wisconsin locations service the greater Milwaukee area and Fox River Valley. Do-it-yourselfers can order windows for pickup at any of our four locations.
WASCO will deliver our Fensterwerk (European) and Premium products within approximately 200 miles of our Milwaukee factory. (Certain minimum orders must be met.) We will provide technical training on our products at the job site.
WASCO will has shipped our Fensterwerk Windows and Doors as far away as Wyoming and Vermont! Depending on the order size we will either crate and ship, or simply send our own truck.
Q: What features make WASCO windows so good for Wisconsin weather?
A: WASCO windows come standard with double strength Cardinal LoE 180 glass, produced right here in Wisconsin. This improved version of LoE 179 glass minimizes winter heat loss while allowing free solar energy into your house, reducing heating bills.
In the summer, this glass system keeps your interior glass cooler (as compared to clear glass), reducing air conditioning loads. Moreover, this glass system reduces damaging UV rays and helps prevent damage to interior drapes, upholstery and carpet.
In addition, many of our competitors use metal spacers between their double-pane windows. Metal is an excellent conductor of heat, and in the winter, the glass edges with this type of a system are considerably colder than the center of the glass. As compared to metal spacers, our dual-seal SuperSpacer® foam spacers keep the glass edge temperatures higher in the winter and cooler in the summer. This helps prevent condensation in the winter, and imparts less stress to the glass due to different inside and outside temperatures. The dual seal reduces the chance of a seal failure. This no-metal spacer also reduces the intrusion of outside noise.
Our Premium and Fensterwerk windows have many small chambers in the frame, which insulate while (unlike hollow foam-filled pieces) strengthening the structure.
Q: How much energy can I save with WASCO vinyl replacement windows?
A: For a typical existing construction house in Milwaukee, annual savings (on the heating/cooling portion of the energy bill) can be up to 20% for a house with leaky, poorly insulated windows, based on calculations with ResFen 5.0. Because WASCO's windows are optimized for Wisconsin's northern climate, if a company claims significantly higher savings, they are not telling the whole story. Their claims are either justified by looking at one peak heating or cooling month, or by assuming unrealistic existing conditions. Be especially leery of energy savings guarantees -- insist on reading the fine print of any such guarantee before buying. For the full story on energy savings, download this paper.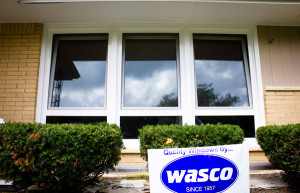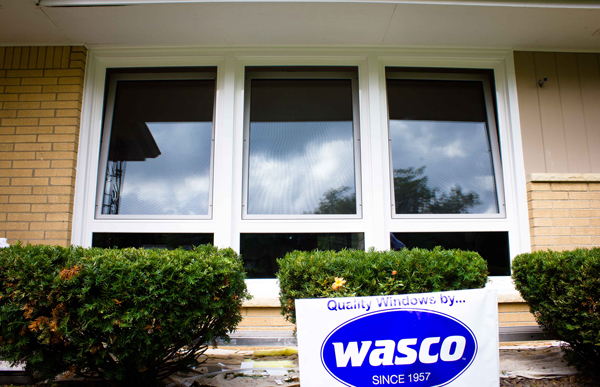 Q: Is there a big difference in how vinyl replacement windows are manufactured?
A: Absolutely. If you've sat through a sales presentation on windows, you know there are dozens of different vinyl, glass and insulation options, types of reinforcements and qualities of hardware. Some companies will "hook" you with a low price, then up-sell you on features like "better" glass, UV coatings, custom color and screen options.
At WASCO, we use only superior materials in a top-quality, high-performance, energy efficient window - we won't offer a "low-end" version, and we'll never compromise our high standards to cut costs.
Attention to detail is critical when manufacturing the best windows possible. WASCO was honored to be the first Milwaukee-based company to be given the Safety and Health Achievement Recognition Program (SHARP) Award. Dave Paulus accepted the award from OSHA on behalf of all WASCO's employees who made it possible. The award recognizes small employers around the country who operate an exemplary safety and health management system.
Every WASCO window features:
Double strength (minimum), high performance Cardinal glass to keep interior glass temperatures comfortable and drastically reduce UV damage.
An argon gas fill between the two (or three) panes of glass, to reduce heat transfer through the glass
SuperSpacer®, an all-foam insulating glass spacer between the two panes of glass (Glass greater than 15 ft2 or tempered glass may use Cardinal XL-Edge ®.)
Composite or galvanized steel reinforcements as required in key areas for strength and security
Heavy-duty hardware from premium manufacturers such as Roto-Frank and Truth.
Full aluminum screens
The style and color options necessary to match the decor of your home
Q: Are your installers independent subcontractors, or do they work for WASCO?
A: Everyone on your job is a bonded and insured WASCO employee, from your salesperson to your installer. That's always been important to us, and it ensures that we'll deliver the WASCO quality and care that our customers have come to expect on every project.
Q: What do I do if something breaks on my window?
A: Contact us immediately, and we'll be out with a replacement part as soon as possible. You'll never find a WASCO window "orphaned," or without replacement parts. Unlike national manufacturers, we continue to make replacement parts for our windows so you're never left out in the cold.
Our windows offer a lifetime warranty, so if your glass cracks, or the seal between the glass fails, we offer replacement glass for free.
Q: Can you install windows year-round?
A: We sure can. For the most part we prep, remove and install windows from inside the home, and the amount of time you're actually without a window can be kept to a minimum to help manage heat loss in the winter months. Complete tear-outs can become more involved and we avoid doing these in the coldest weather.
Q: Can I install my own WASCO windows?
A: Because our installers take every precaution necessary to ensure your windows are properly fitted and insulated, we prefer to have them on the job, but we know there are do-it-yourselfers who enjoy this type of work and appreciate the cost savings. If you prefer to install your windows yourself, don't settle for big box quality – we're happy to custom-make windows for your project. For information, please contact your closest WASCO location.
Q: Is it difficult for a small local company to compete with national window replacement companies, in terms of price and technology?
A: Not at all. In fact, at WASCO we consider our work a craft - so we want to take the time to make sure every window is to our exacting standards. And despite the hand detailing, you'll find our windows are very competitively priced with the national retailers who mass-produce their windows.
Q: Do I need to replace a window with a window of the same type?
A: No. In fact, it is often advantageous to replace large horizontal slider windows with another type. Sliders are often chosen by builders because they are the least expensive of the various window types. Unfortunately they are also, by design, the least resistant to air infiltration. WASCO has replaced sliders with multiple casement windows, or French Tilt & Turn windows. These windows virtually eliminate air infiltration. (However, in some cases, especially when the windows are very short, sliders were chosen for architectural reasons. In this case, the best choice is often to replace them with a modern slider window.)
Also, some people choose to replace double-hung windows with Tilt & Turn Windows, either for styling or for the superior performance of the Tilt & Turn Window. The Tilt & Turn can also be used in lieu of a crank-out casement if the customer desires, as well as being an architecturally correct replacement for original wood in-swing casement windows that have deteriorated beyond repair.
WASCO recommends against replacing multiple casement or double hung windows with a single horizontal slider window. Some companies quote jobs this way, failing to tell the customer that windows of a lower-performance design are being used in order to come in with a low price.
Q: Will WASCO Windows help eliminate condensation?
A: WASCO windows have very good NFRC certificated condensation resistance (CR) values of 56 to over 70 depending on the window type, so they can help prevent condensation. However, if the humidity in the house is high enough and the outside air cold and windy, any window can have condensation. Also, sometimes old, leaky windows can mask humidity problems by allowing the inside air to warm the outside of the glass. WASCO's calculations show that keeping the relative humidity in a house below 30% at 70°F will prevent most condensation problems.
Q: What do all the numbers on the NFRC label mean?
A: An in-depth explanation of the values can be found here.
Q: How come WASCO doesn't give an R-Value for its windows?
A: WASCO offers NFRC (National Fenestration Registration Council ®) certified products. The NFRC uses the U-factor because "R-value does not accurately reflect this interaction [with solar radiation and airflow around the window]. Therefore, the window industry measures the energy efficiency of their products in terms of thermal transmission, or U-factor." If somebody quotes an R-value to a consumer, the consumer should insist on knowing the NFRC-certified U-factor. (Moreover, some in the business have been known to try to further mislead customers by using center-of-glass R-values instead of whole window values, which makes the product appear better than it really is.) Also, consumers should be aware that not only the U-factor, but also the Solar Heat Gain Coefficient (SHGC) has a large influence on home energy costs.
Q: Where can I find out more about WASCO's associations and products?
A: The Efficient Windows Collaborative www.efficientwindows.org
WASCO is a member of this collaboration, which provides a "gateway to information on how to choose energy efficient windows."