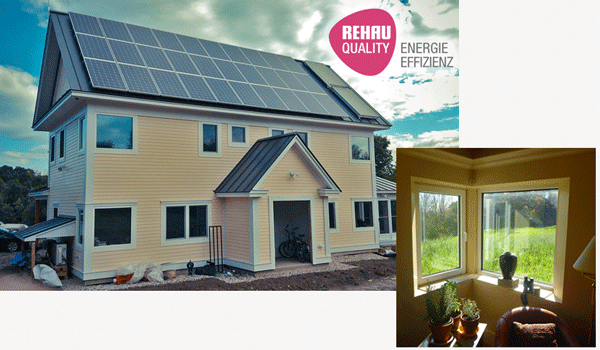 WASCO's Milwaukee Fensterwerk produces European style windows and doors out of a new high-tech material, REHAU's RAU-FIPRO. This series of windows and doors is called GENEO.
New High-tech Material
From their experience with aircraft fiber composites, as well as expertise in high-performance window profiles, REHAU developed the innovative RAU-FIPRO material that makes steel reinforcement virtually obsolete in standard sized windows and doors.
Comparable systems with steel reinforcements are up to 40% heavier than the fully reinforced GENEO profiles. The patented "integrated reinforcement system IVS," fitted with integrated screw bosses and additional diagonal reinforcement, ensures the highest resistance to screw pull-out.

Unbeatable Thermal Insulation
GENEO easily surpasses the requirements of the U.S. Department of Energy R-5 Window program, and even energy targets as stringent as German Passivhaus can be achieved.
Perfect for New Construction, Passive Solar and Low-energy Homes
NFRC Whole-window U-factors are as low as 0.14 Btu/hr•ft2°F for an operating window.
EN Uframe as low as 0.83 W/m2K (0.14 Btu/hr•ft2°F) for an operating window.
EN Uglass=0.64 W/m2K (0.11 Btu/hr•ft2°F) with g=0.57 with 41mm high SHGC glazing and argon fill.
PHIUS certified.
Glass Packages
WASCO Windows have a variety of options available for glass packages.  For specific information, click the links below: